Recently, one of our forward thinking clients, a global bank, asked our UK office to undergo an EcoVadis sustainability assessment and to establish a number of policies, changing our ways of working in the process. As a result of this, NextWave was awarded a Silver EcoVadis Medal for Sustainability, Environment, Ethics and Rights.
The assessment process was comprehensive and took several weeks to complete, however it has already had a significant positive impact on NextWave's business and is something that we would encourage all firms to look at as a key step in their own sustainability journey.
At NextWave, we firmly believe that sustainable practices are not just a responsibility but also a pathway to success. We are committed not only to embedding ESG at the heart of our supply chain, but also to help our clients drive forward the sustainability agenda.
By measuring our Policies, our Actions and our Results, the assessment process has moved NextWave forward in our sustainability journey.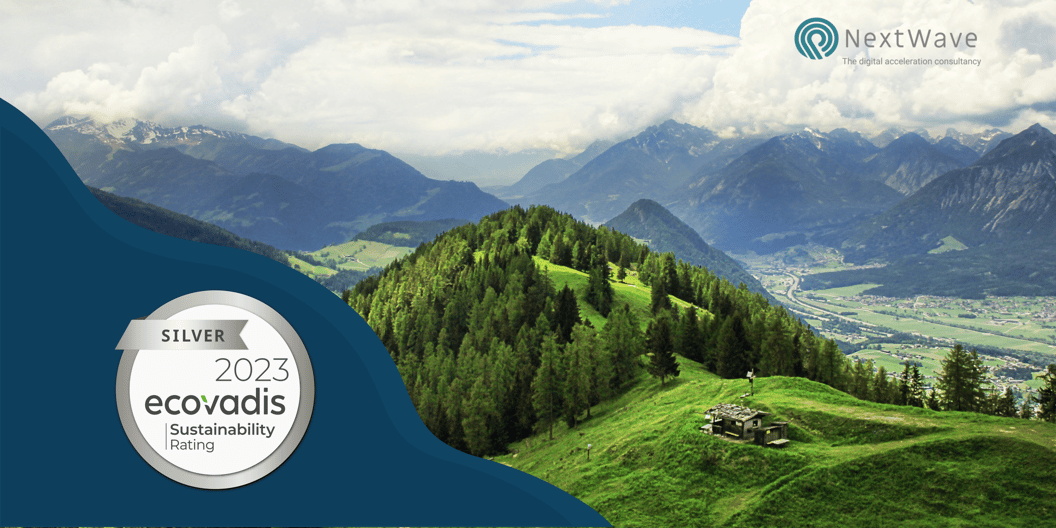 Our Sustainable Finance Practice
We believe that sustainable finance is the future of the finance industry. Financial market players and firms face significant challenges in implementing sustainable finance practices, such as complying with ESG regulation, developing sustainable finance strategies and reporting on ESG performance, from the initial inception to the implementation, organisation-wide.
Our Sustainable Finance Practice works closely with our clients, which include banks and fintechs, to help them navigate the complex landscape of ESG regulation and incorporate sustainable practices into their strategies. We also work with clients to identify ESG risks and opportunities, develop sustainable investment products, and integrate ESG considerations throughout our clients organisation.
Our technology-led solutions help clients overcome data challenges and provide transparent and accurate data to stakeholders, improving sustainability performance.
Are you interested in how we can help you with your ESG agenda?
Nextwave recently automated the bank-wide climate reporting disclosures of a top-tier UK bank. Our Appian based solution included a real-time dashboard of progress, blockers and queries for senior management to proactively drive the process. Ultimately, this digitised ESG solution allowed sustainability data and information to be gathered and disclosed automatically, speeding up evaluations and allowing for progress.
Our Data Practice also partners with Quantexa to understand clients' ESG exposure using network analytics. The Quantexa platform enables banks to represent data dynamically as it exists in the real-world through events, entities and networks.
Concerned about new ESG regulation? Why not read more about our Horizon Scanning solution?
Our experts can help you gain a better understanding of how to get a clear and transparent assessment of your company's performance in key ESG areas and take actionable steps towards sustainable business practices.
Take our Sustainability Scorecard
Want to know more about how you can accelerate your ESG strategy?

Start by completing our free, 4 minute Sustainable Finance Scorecard to get your personalised sustainability score and unlock valuable insights into your company's sustainability performance.
Our scorecard will help you enhance your sustainability efforts, get a clear and transparent assessment of your company's performance in key ESG areas and take actionable steps towards sustainable business practices.
Interested in digital acceleration?
Subscribe to NextWave for occasional email updates on the latest technology, acceleration approaches, news and NextWave events. You can unsubscribe from these communications at any time.
Subscribe for our latest updates
Tags:

Maya is NextWave's Digital Marketing Lead. She is a published journalist with two first-class degrees from Warwick and LSE. She has experience in copywriting, website design, pr and marketing across industries including fintech, agritech, nanotechnology and sustainability.