We're thrilled that NextWave has been listed as one of the fastest growing companies in the UK on the prestigious Sunday Times Hundred, which will be published in the business section on Sunday 2nd July.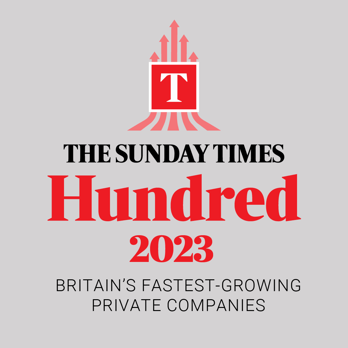 The Sunday Times 100, previously known as 'Fast Track 100', is a highly regarded ranking that recognises the UK's fastest-growing privately-owned companies.
NextWave was founded in 2019 and has since worked with the world's leading financial services companies to accelerate their strategies, leverage their data and automate their businesses by applying industry expertise and technology to drive growth, efficiency and value.
Today, we have 80 professionals across 4 offices and have already received national award recognition for our employee engagement, diversity and social impact. However, we are still relatively early in our journey and therefore it means so much more to us that we have been listed amongst so many incredible firms.
We would like to extend our gratitude to everyone who has been a part of NextWave's incredible journey so far, including our alliance partners, clients and wonderful team.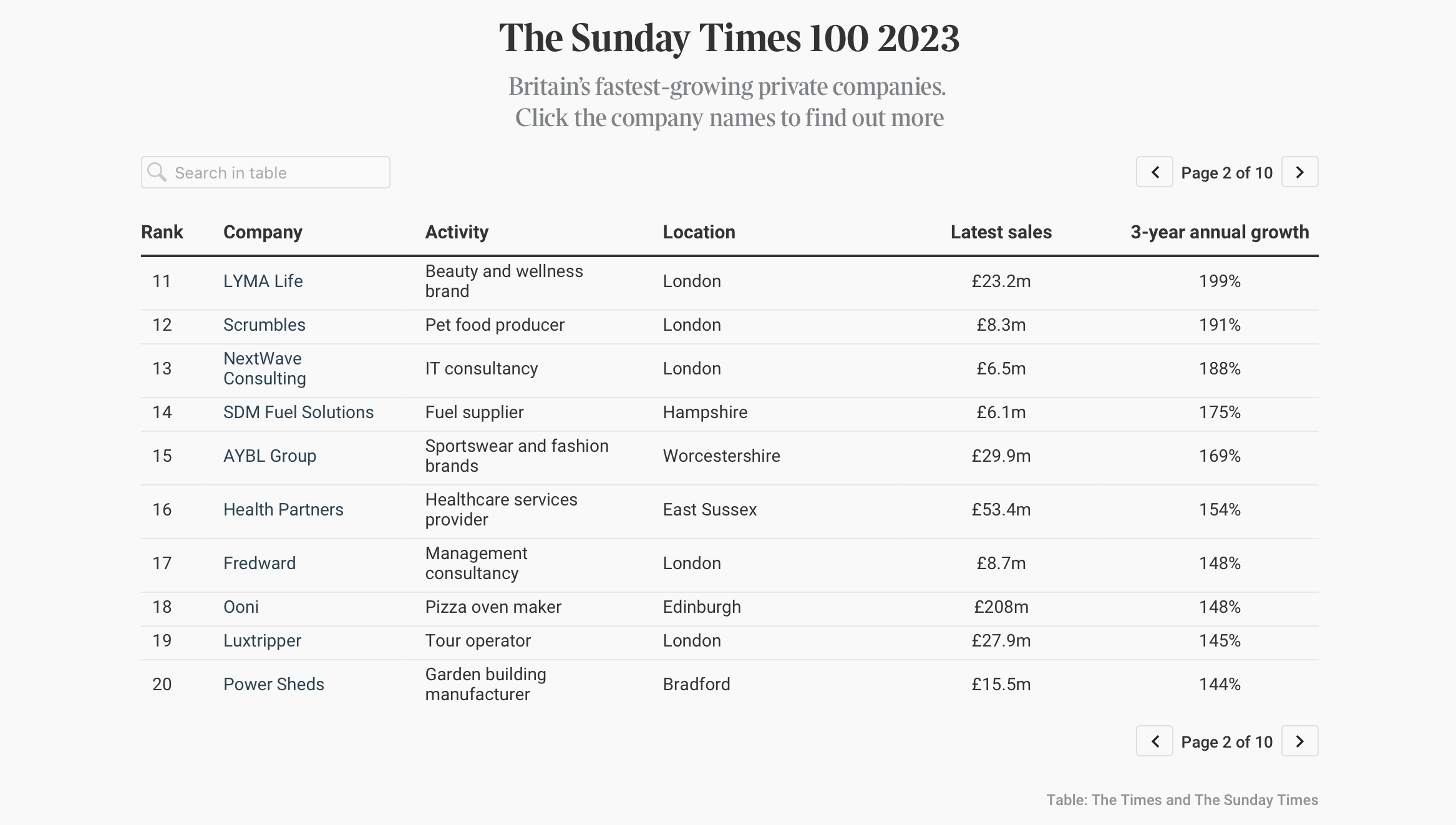 Our positioning
The award acknowledges our position as a leader in the fintech and financial services space and underlines our ability to compete with industry giants and our commitment to delivering outstanding results.
We are championing innovation in early stage companies with a forward-thinking approach and dedication to driving growth and value for our clients, which sets us apart from other consultancy firms.
Clients can be confident that, by partnering with NextWave, they will receive the same (or better) level of expertise, professionalism, and success as they would expect with the big consulting firms, but with the agility, focus and industry depth of a specialist firm.
This trust is crucial in the financial services industry, where our clients rely on us to navigate some really complex challenges and deliver business outcomes to achieve their goals.
Our big vision is to help our clients build businesses for the next generation and to create career and life opportunities for our employees, their families and our network in the innovation economy.
Our journey – how did we get here?
Well, despite how it may look from the yacht picture that we use on some of our materials, it has certainly not all been plain sailing!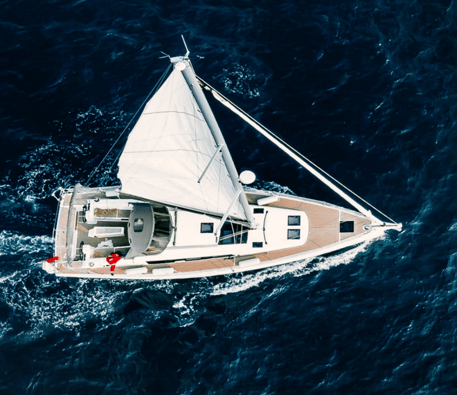 We launched NextWave in late 2019 and secured our first consulting project, with a global Top-10 bank in January 2020, together with our first enterprise client Master Service Agreement (MSA) and an early pipeline of potential projects with Financial Institutions across our sector.
Then the pandemic happened and the world changed for everyone.
Even with a two-decade successful track record of FS consulting delivery and a great team, a micro-business without it's own trading record has to work very hard to secure preferred supplier listings with major clients. Trying to do this in a fully remote environment whilst the sector was paralysed by navigating COVID made initial client onboarding and engagement almost impossible.
A client policy change at our first major client also meant that we were unable to use our MSA and securing new clients took a huge effort as firms in the sector reset their goals and slowly started to open up to new and innovative suppliers.
Our first year saw major investments in our platform, client relationships and (re)building a pipeline of opportunities aligned to an adjusted set of sector priorities.
It's fair to say that the 'ABC'* of Attunement, Buoyancy and Clarity (and a hefty dose of resilience) in securing traction in the market has never been more important. *See Daniel Pink's excellent books for more on this reference.
Ultimately we have come through to today with a really balanced and growing portfolio of clients (23 so far and counting) from Banking, Insurance, Wealth & Asset Management, Private Equity and fintech, including some of the worlds largest firms. However, it hasn't been at all easy.
Along the way we, have completed over 100 projects, hired 80 people, opened 4 offices, won 5 awards, created 6 specialist practice teams, built 5 solution accelerators, partnered with 30 innovative technology firms, held 200+ all-team check in meetings, issued equity to 50 employees and helped 20 diverse youngsters on their career journeys (see https://www.nxwave.com/one4one) – and we are just getting started.
International expansion
Whilst NextWave is still a 'medium' sized business (as measured by the ST Best Places to Work award and by our client diversity definitions), we nonetheless have ambition and are punching above our weight in many areas, working for some of the biggest financial institutions in the world and frequently coming up against the largest consultancies in the market
Early in our journey, we added international offices to give us scale, delivery capacity and client reach across multiple markets.
NextWave is now in London, Amsterdam, Milan and New York. Clients are recognising us as an international business and as a partner who can support them on their global goals and initiatives.
Some of our London team in the office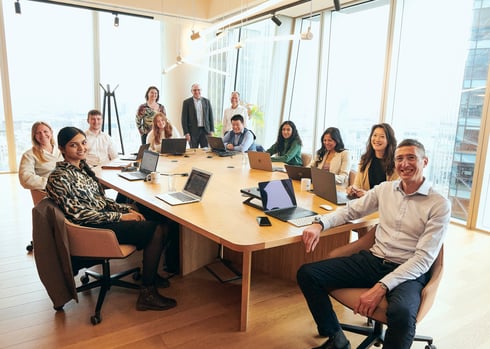 Some of our Amsterdam team outside the office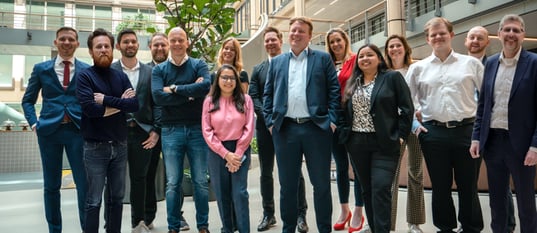 Our ultimate goal is client success
As we continue on our journey of growth and expansion, we want to extend an invitation to all those who are seeking innovative solutions and expertise in the financial services industry. Whether you are a financial institution looking to accelerate your strategies, leverage your data or automate your business, or you're a fintech seeking guidance and partnerships, NextWave is here to support you.
It's not just about the services we offer. We believe in the power of connection, collaboration and strategic partnerships. By partnering with fintech startups, technology providers, data analytics firms and established financial institutions, we are able to expand our reach, access new markets and offer comprehensive solutions to our clients.
To stay ahead of the curve and provide cutting-edge solutions, we continuously stay updated on industry trends. We attend conferences, network with industry leaders and train on the latest technologies, ensuring that we are at the forefront of industry developments and able to support our clients as trusted advisors and thought leaders in the financial services and fintech space.
NextWave is all about delivering exceptional results and providing excellent customer service to ensure that our clients are not just satisfied, but also become advocates for our consultancy. Word-of-mouth referrals and testimonials from satisfied clients continue to expand our client base and build trust with potential clients.
So, whether you are a financial institution, a fintech startup, or an individual seeking guidance and expertise in the financial services industry, we invite you to join us on this exciting journey. Together, we can drive innovation, create opportunities and achieve success.
Contact us today to learn more about how NextWave can help you navigate the ever-evolving world of finance and technology to meet your goals.
Moving forward...
The biggest challenge for FS firms is knowing how to effectively leverage technology and data at pace to stay relevant and to get ahead.
We would love to hear from you for an informal chat about your goals and to share some approaches to delivering enterprise business solutions and transformation faster, cheaper and more effectively.
Tags:

Tony is the founder and CEO of NextWave Consulting and has 30 years of big-firm consultancy, startup, and enterprise experience across business, digital and technology, working with some of the world's leading banks and financial institutions. Tony has worked at Accenture, m.a.partners, and was a founding team member at Crossbridge. As Synechron MD and Head of the UK business, Tony ran the UK Consulting, Digital and Technology practices, growing the UK regional business from 60 heads in London in 2015 to $70m revenue and 950 heads across UK and India. Tony is a passionate advocate and industry speaker on all things digital and has a strong industry network. He is an advisor to fintechs and a mentor to aspiring professionals at Generation Success events.