A summary of how NextWave has become a winner in the Sunday Times best place to work awards 2023.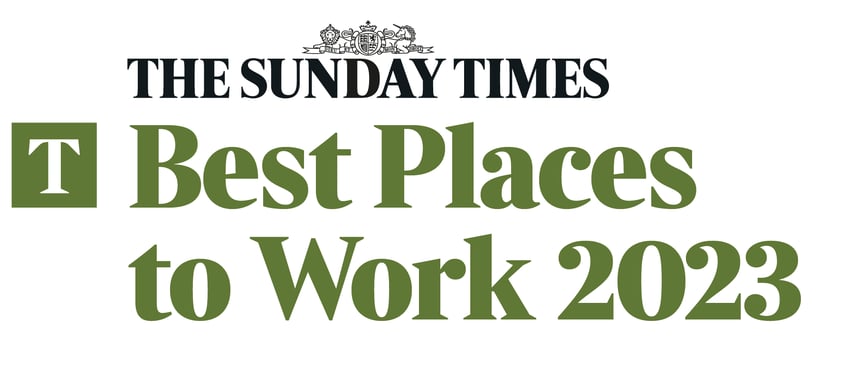 Nextwave was founded in 2019 to meet the need for Financial Services (FS) firms to modernise their businesses more quickly in order to remain relevant in an increasingly connected and crowded digital environment. Our clients are seeking effective acceleration strategies & technologies (e.g. low-code / data / automation), but are struggling to find specialised consulting partners to help navigate the right approach and to execute.
Nextwave meets this need for a connected, technology-enabled financial services consulting capability through a combination of industry domain depth and experience, with acceleration platform and fintech solutions to fill the 'fintech consultancy' gap.
Three years on from launching our business, we find ourselves with a team of 80 great people across four offices, over 20 clients and, as of 2023, national award recognition in the UK for our employee engagement, diversity and social impact.
There is much to be celebrated and the first thing we should acknowledge is a big 'thank you' to our team! After all, it is our employee feedback which drives the awards process and, whilst we nervously put ourselves out there to be measured, we have been rewarded by some amazing scores.
We had an 82% respondent rate in the survey process and an overall score that is 23% above industry average. Our employee NPS (80) and happiness ratings are remarkable.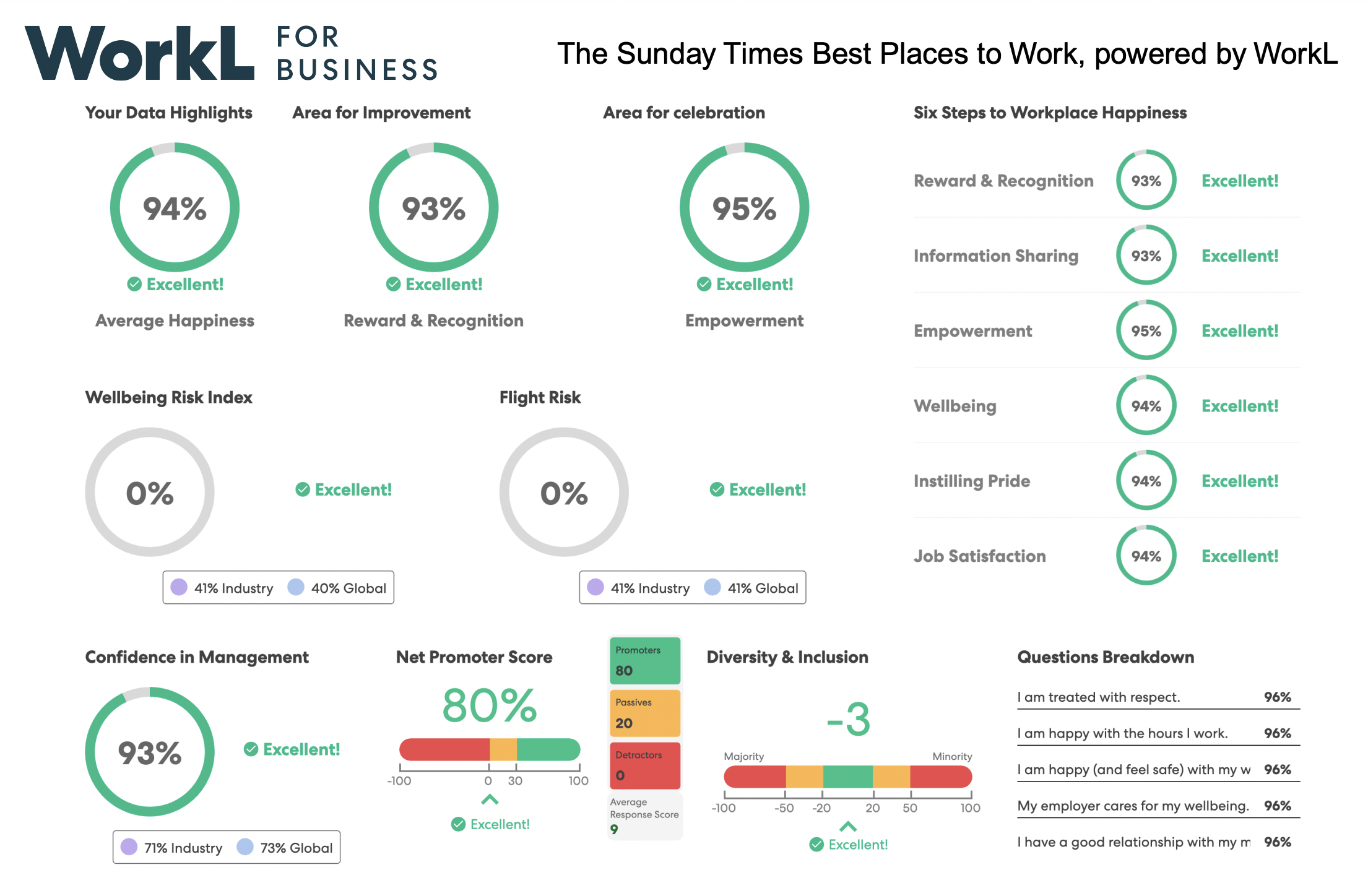 Reflecting on these results, we are humbled by the confidence that the team has placed in NextWave leadership, with the knowledge that we are still a small firm (we qualified at the lower end of the 'medium' category) that is relatively early in our company evolution. Setting the bar this high means that we will have to work very hard next time to keep the scores at this level, and this is definitely something we will watch and continuously aim for.
It's also true that there will never truly be a 0% flight risk (this score comes from the survey parameters), however it's great to know that our employees are so happy and that the risk is low!
As The Sunday Times puts it, "Everyone is a shareholder at NextWave, which helps financial services companies with data analytics, fintech and automation. Its 56 staff in London have 10 "learning days" a year and can earn a bonus for finding new business. A social impact training programme supports young people from diverse backgrounds."
So how did we do it? We have asked ourselves that question and, aside from sharing the great results here, it is probably more interesting for our audience to understand a few of the things that we feel have made the difference for us – so here's my Top 5:
1. Vision & values
NextWave has had a strong sense of purpose and a clear market positioning message from the start. As our team grew, we got our employees involved in setting our values to underpin our vision. The values can be found on our website and they are in everyone's annual appraisal objectives. We endeavour to walk the talk every day.
Our mission of building businesses for the next generation resonates with our staff and our clients while the NextWave One4one social enterprise programme delivers a tangible social contribution and gives everyone a reason to engage that goes beyond 'just' amazing client delivery.
We believe in a shared journey and are delighted to have been able to share employee equity (EMI options) with every permanent team member at all levels of the firm to date.

2. Communication
We currently work in a hybrid office & remote model (it was more remote than office during 2020 and 2021 of course) and have had to work extra hard to build cohesiveness across the team - we essentially launched during the pandemic and we were hiring and onboarding employees remotely for the first 18 months!
We hold quarterly Town Hall meetings to communicate strategy, plans and team updates, monthly practice team socials and many of the things that other firms do, however we also have a twice-weekly 'stand up' with the CEO with a freewheeling agenda focused on checking on our employee wellbeing and sharing updates from the top (often including breaking news on new clients, partnerships and social initiatives).
When we set it up, this stand up meeting came with a MsTeams channel called 'all company chat' which has since become the internal social channel for sharing updates that range from a team night out to holiday pictures and new pets - all part of building our culture and pulling everyone together.

3. Leadership
Without blowing our own trumpet (too much) I have to conclude that we seem to be getting our leadership balance right so far. Our combination of experience in building successful consultancies and a super-collaborative and seasoned financial services industry leadership team (from whom our employees can learn), together with top level direction setting, which we share through frequent all-staff updates, ensures that our strategic narrative and direction is reaching our team members and providing something that they can get behind.
Our Practice Heads have mostly come from MD-level positions in the front line of major Banks and Buy-side firms. They bring a wealth of practitioner experience which they share via direct mentoring with the team. This is perhaps something that will be more of a challenge as we grow, however our employees get unique exposure to industry domain expertise that they might not find elsewhere.
We have put in place the Practice team structures and infrastructure (including an employee engagement platform and a knowledge hub) to allow us to scale as a performance business even from a very early stage.


4. Learning & development
The number one topic raised at NextWave recruitment interviews is a desire to learn & develop and we understand that many of our team joined us because of the opportunity for exposure to both 'big finance' as well as leading fintech and acceleration technologies.
Through our strategic alliances with around 30 technology firms our team has a learning opportunity on some of the leading platforms in the market. Our Data Practice consultants are certified engineers on the Quantexa CDI platform and our Digital and Automation team are accredited professionals on Appian and Alteryx (and in many cases on both platforms).
On top of the Practice platform certifications we have allocated 10 days a year to learning for each team member, implemented LinkedIn learning to provide access to ~20,000 professional courses, organised lunch & learn and weekly fintech Friday sessions (to hear from our Alliance Partner firms) and provided line management mentorship for on-project learning for all our practice teams.


5. Collaboration
Fundamentally we are only as good as the level of our teamwork. I'm not sure we can yet claim to be the equivalent of a Formula 1 pit crew, however this is a great analogy for where we want to get to.
We have seen team members pulling long days at clients, the occasional weekend and reaching out to support their colleagues every day. They are doing this because we all feel part of the team and understand that our value to our clients is all about delivery of successful outcomes for their business – and sometimes this means going above and beyond, even when the obstacles are not always of our making.
We created NextWave Nexus to capture our methodologies, best practices and ways of work and we implemented MethodGrid to build those nexus playbooks in a dynamic online toolset.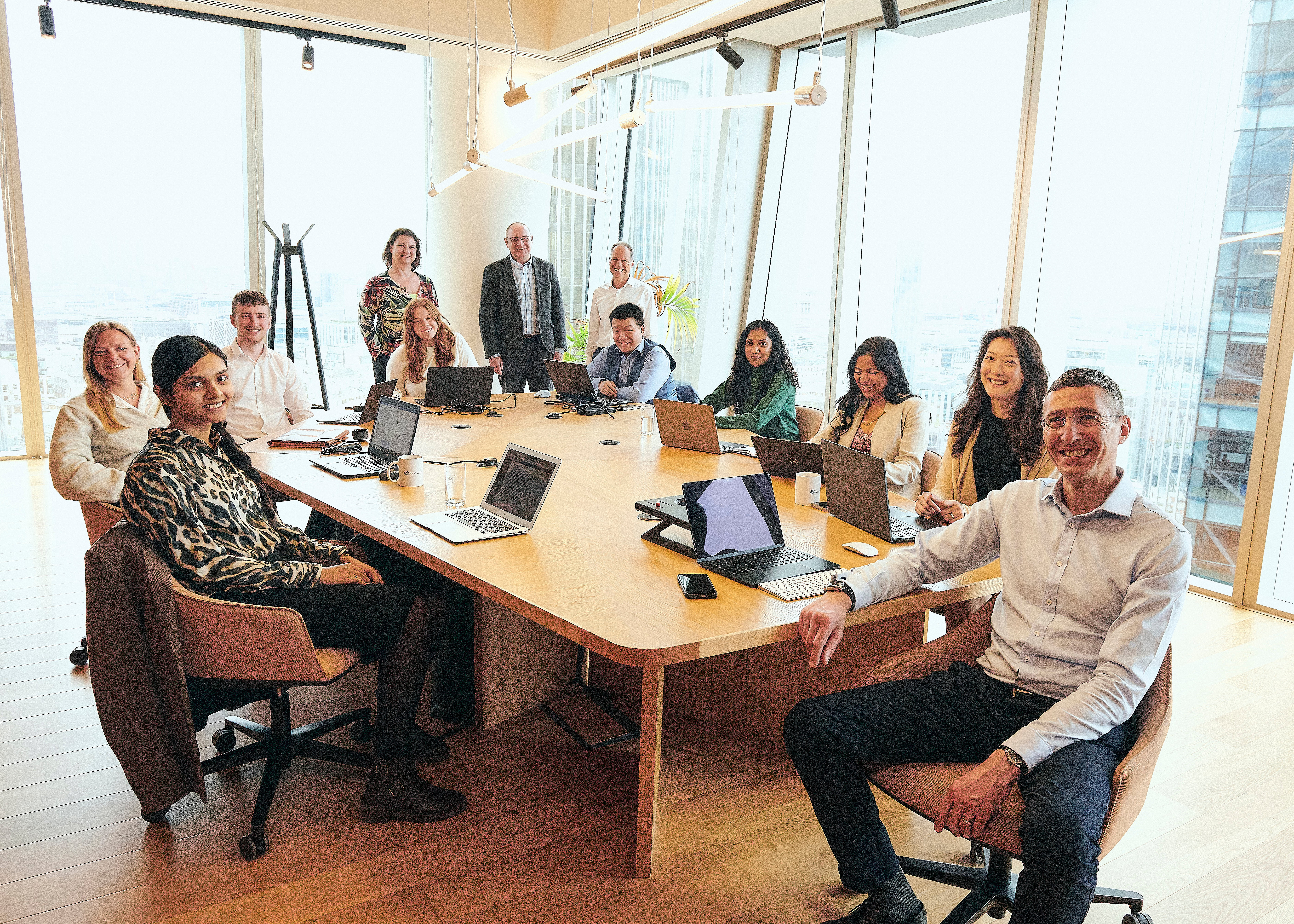 Some of our leadership and consultants in our London office
NextWave is, at its heart, a connected-consulting model that is all about collaboration – with our colleagues, our clients and our partners.
So these are just some of the things that NextWave is doing which, if you have read this far, I hope you have found useful for your own career and growth journey.
Thanks to everyone who has got us here and we are looking forward to more fun and success ahead!
Interested in digital acceleration?
Subscribe to NextWave for occasional email updates on the latest technology, acceleration approaches, news and NextWave events. You can unsubscribe from these communications at any time.
Subscribe for our latest updates
Tags:

Tony is the founder and CEO of NextWave Consulting and has 30 years of big-firm consultancy, startup, and enterprise experience across business, digital and technology, working with some of the world's leading banks and financial institutions. Tony has worked at Accenture, m.a.partners, and was a founding team member at Crossbridge. As Synechron MD and Head of the UK business, Tony ran the UK Consulting, Digital and Technology practices, growing the UK regional business from 60 heads in London in 2015 to $70m revenue and 950 heads across UK and India. Tony is a passionate advocate and industry speaker on all things digital and has a strong industry network. He is an advisor to fintechs and a mentor to aspiring professionals at Generation Success events.