At NextWave, we believe in playing the long game for success, a principle that inspires our interactions with colleagues, clients, and partners, focused on growth and mutual success. Today, we are delighted to announce our newest leadership addition, Managing Partner Natalie Behan. With over a decade of industry experience and a network across financial Institutions, fintech and the VC community, Natalie will spearhead our expansion into the Americas and has already established our first presence in New York.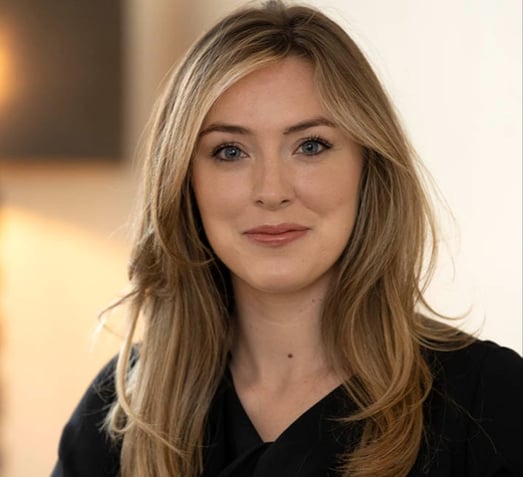 Our journey alongside Natalie began when she was introduced to founder and CEO Tony Clark in 2019. In 2021, Natalie worked closely with Tony and Charles Rustin (CGO) as NextWave Consulting's Interim COO.
Natalie quickly became an integral part of our collaborative efforts across global operations, which continue to support us to date. In late 2021, Natalie pursued her MBA at the Fuqua School of Business, Duke University, and graduated earlier this year.
In addition to 10 years of consulting experience across the financial services sector, Natalie co-founded, scaled, and monetised her investment in Efficient Frontiers International, a specialist Financial Crime Prevention consulting firm operating across Europe. As Director and Chief of Staff, Natalie was pivotal in scaling the firm to over 150 consultants in three years.
While maintaining close contact with NextWave during her studies, Natalie was approached to rejoin the team in 2023 to expand our American footprint. Passionate about shaping high-performing teams and delivering excellence to clients, Natalie consistently strives to achieve outstanding results. We've had the pleasure of witnessing firsthand how her passion, knowledge, determination, and expertise have matched our internal culture, and we're delighted to welcome her back as Managing Partner of NextWave Americas.
A seasoned entrepreneur and strategist, Natalie's new role will see her responsible for NextWave Americas' overall operations, the company's strategic direction (under the board's guidance), and the day-to-day management of the business.
Tony Clark, CEO of NextWave, commented:
"I'm delighted to have Natalie join us as Managing Partner of NextWave Americas. Her mission is to help expand the global footprint of NextWave across the United States, bringing innovation and digital acceleration to financial services. Everything our team does is agile, done at pace, and supported by 'best in class' technology partners."
NextWave Americas launched in June 2023 and is already poised to significantly impact the US financial services market. We partner with companies across the NextWave group (our alliance partners) to help our global clients with digital transformation initiatives and large-scale transformation.

With in-depth financial services expertise, we are ideally positioned to help our clients with their biggest challenges. We combine today's experts, the strategies for the future, and the latest technologies to deliver consulting services to the financial and fintech industries, focusing on future-proof platforms that enable large-scale transformation for success in the long haul.
Meet Natalie:
What drew you to NextWave?
Having worked with Tony and Charles in 2021, I realised that they are exceptional leaders. NextWave Consulting was only launched four years ago, but we are fast-growing and well-respected. We all work hard and well together, and that's clear to clients and partners, allowing us to unlock new levels of creativity and excitement when delivering projects to clients, and attracting and hiring the best available talent.
Everyone across the partner team and global business is deeply committed to serving clients with excellence and integrity and creating a diverse, inclusive, and closely connected international network of leaders for our mission. I'm thrilled to have the chance to scale NextWave's presence across the US, creating new avenues of excellence for our global clients and teams.
What has been your career highlights so far?
I've had an amazingly rewarding ten-year career that I believe helped me build four professional pillars as a foundation to further my career and add value to the business. They are to stay relevant, think beyond, add value, and never stop learning.
I think the three things that I've learned from my time at Efficient Frontiers International and through my MBA studies have been the cornerstones of my career to date.
First, the importance of learning from high-performing teams and the ability, as a leader, to build high-performing teams.
Second, maintaining the awareness of the world around us, including evolving business needs and the amazing technology available. I have always been passionate about working with new technology, so much so that I spent most of my two-year MBA pursuing various roles in venture capital to become a long-term investor in emerging tech (which I still pursue).
And third has been the learning process to turn all of this into a durable consulting business that can deliver value to clients and revenue to driving earnings for our investors.
What are you most excited about for NextWave Americas?
I couldn't be more excited to be rejoining the team at NextWave. I think a firm founded on such amazing and proven talent, with an inspiring vision for the future, is an irresistible platform for me to apply my talents and build the firm's American presence here in the heart of New York.
Where can we find you when you're not in the office?
I am fortunate to have a strong and global group of close friends who are always up for an adventure, so you'll usually find me with them and my husband Tom on a ski slope, cycling around Central Park, training for a triathlon, or watching live music!
If you are a client who is interested in connecting with Natalie, or would like to learn more about working with NextWave, please feel free to reach out at Natalie.Behan@nxwave.com.
Moving forward...
The biggest challenge for FS firms is knowing how to effectively leverage technology and data at pace to stay relevant and to get ahead.
We would love to hear from you for an informal chat about your goals and to share some approaches to delivering enterprise business solutions and transformation faster, cheaper and more effectively.
Tags:

Maya is NextWave's Digital Marketing Lead. She is a published journalist with two first-class degrees from Warwick and LSE. She has experience in copywriting, website design, pr and marketing across industries including fintech, agritech, nanotechnology and sustainability.