The implications of the EU/UK Trade Agreement for UK service providers
A changing landscape
Having studied, lived and worked across the EU since 1992, the 1st January 2021, when the UK finally leaves the European Union will be a day that for me will be tinged with sadness. Based in the Netherlands since 2004 and having benefited from a safe and secure environment to bring up three children, I struggle to understand a lot of the arguments for leaving the EU.
However, this article is not about lamenting what has been lost. That point has been well documented over the past 4+ years. This article is all about what changes the EU/UK Brexit trade agreement has had on U.K. service providers, specifically B2B, that are delivering to EU based clients.
David Aston, European CEO. 4th January 2021.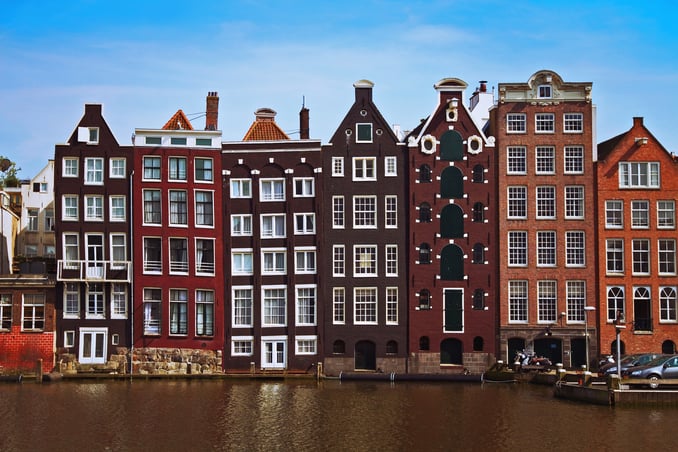 Did you know? The Netherlands has been quick to offer permanent residency to UK citizens remaining in the country post Brexit. Although freedom of movement is restricted to The Netherlands, British citizens who are resident in the EU are still able to operate existing businesses, effectively offering a new gateway to Europe for UK companies looking for UK based partners looking to deliver services locally. Our business based in Amsterdam is one such example.
This short summary identifies 6 key considerations for UK Service focused companies that now need to be understood when selling Services into the European Union
The trade real and services
"Thin" would probably be the most apt word when describing Services related content in the EU/UK Trade Agreement. Whilst the agreement does touch on Services and offers what appear to be some benefits to UK businesses, (for example there appears to be no mandatory requirement for the majority of UK businesses to establish a subsidiary in Europe in order to be able to trade) once you start to peel back how things are going to really operate it is clear that the situation is far removed from that which the UK was benefiting from as a member of the European Union. There is no hiding from the fact that this is going to be a seismic change in how the UK, and specifically UK service companies, are going to be able to trade in Europe going forward.
If we take a number of key aspects of doing business and analyse them then the true picture of the challenge facing UK businesses starts to become clear.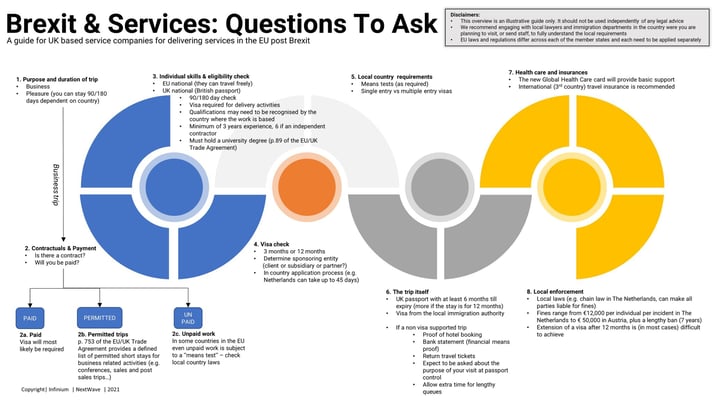 Take a look at our overview that provides a summary of key questions to ask when, as a UK based services business, you are delivering services in an EU country.
Note: To be read in conjunction with independent legal advice.
Observation 1: Europe is not one country
Perhaps it sounds a bit ridiculous to state, but one very important thing to understand is that the European Union is not a single entity, nor does it possess a single legal framework, when it comes to doing business. Despite all the commentary in the U.K. regarding loss of sovereignty, all of the European nations retain the right to manage how foreign workers can operate and how companies are allowed to transact in their respective economies. This point is absolutely critical to understand once the UK leaves the European Union.
Whereas previously as an EU member UK employees had the right to live and work across the continent, this is no longer the case. UK service companies will now find themselves facing multiple challenges, all of which will be different depending on the country within the EU where they wish to provide services.
Observation 2: A patchwork of differing regulation
For those companies in the UK that may be considering partnering with local entities for the delivery of services in the EU, such as our consultancy that is based in Amsterdam, it is important to note that such a model will most likely only work on a country-by-country basis.
Depending on the analysis that a service company conducts, relating to how easy it is now to do business in each of the European countries, it is entirely possible that with the increased level of administrative burden and consequential costs involved, that some UK service businesses may elect to withdraw from specific markets.
Observation 3: Moving around just got a lot harder
Whilst UK citizens are able to visit Europe without the need for a visa, they are no longer able to stay within the EU borders indefinitely. Visits will be restricted to 90 days within a rolling 180-day window, which doesn't sound too bad, however, such visits really only apply to tourist related activities and a tightly defined list of business activities such as sales, attending conferences or business meetings. More in-depth business-related activities will in reality require work permits and visas with specific applications and qualification criteria differing by individual EU country. As such, it seems unlikely that business travellers from the UK will have much cause to remain on the continent for extended periods, quite simply because if they do so, that will attract administration and tax challenges, to name but a few. There is also the need to record the various trips to and from Europe, and this also needs to include holidays spent on the continent. In summary, there is now a limit to what UK citizens can now do in the EU and for how long.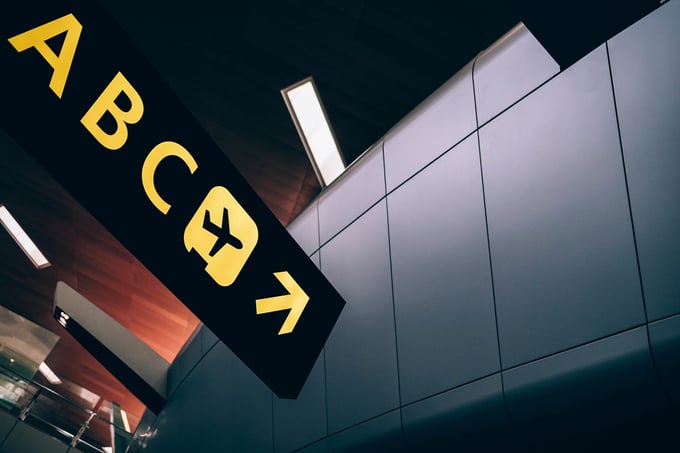 Observation 4: You are welcome to visit and to sell services, but you cannot deliver them in the EU
The EU/UK trade deal, where it does talk about services, details a rather concerning point with regards to ongoing delivery and services post-sale.
Clause (f) on page 753 of the Trade Agreement illustrates the problem quite clearly and states that UK based services companies can be involved in activities such as '' taking orders or negotiating the sale of services or goods or entering into agreements to sell services or goods for that supplier, but not delivering goods or supplying services themselves ''
What this precisely means of course, is open to interpretation, and we are certain that numerous law firms are already being asked to opine on what this means in practice, especially when services are provided remotely, but the traditional model operated by the larger consultancies and law firms of selling work from the UK and then delivering it with a fly in fly out model, at first sight at least, seems to no longer be an option and will require specific visa and work permits. This is a potential game changer.
Observation 5: Loss of mutual recognition when it comes to professional qualifications
One of the more concerning aspects of the Trade Agreement is the lack of a framework for mutual recognition of professional qualifications, impacting the professions, such as Law and Accountancy and severely restricting the ability to continue to operate as before, cross-border. Lawyers and accountants are now faced with having to seek, country by country, local recognition of their qualifications, a process that will be slow and prone to delay, if possible at all. In situations where qualifications are no longer recognised, then professionals are faced with the obstacle that they would need to re-qualify in the country they wish to operate in, an arduous process. 2020 already saw large numbers of lawyers in the major law firms looking to re-qualify in Ireland in advance of the 31st December.
Of course, having to re-qualify might be perceived as an extreme case, but until there is mutual recognition of qualifications, professionals who ply their trade across the EU are going to be faced with having to look for work in the UK or outside of the EU, at least in the short term. You can access the EU regulated professions database and understand the impact here.
Observation 6: VAT and other tax challenges (B2C)
Whilst the trade deal focused on tariff-free goods, the go- forward situation for services will be far from simple, especially for B2C service providers. The additional tax burden and administrative challenges will also make European buyers think twice before engaging with a UK supplier. There are already many examples emerging in the media of companies that are selling goods into Europe, that have had orders cancelled by clients in the EU stating that the red tape is just too much for them to handle, instead preferring to deal with EU based suppliers. These challenges will undoubtedly be mirrored across all aspects of trade and not just limited to goods, they will also apply to services.
The good news, for now at least, is that the reverse charge mechanism for B2B transactions will remain in place and the impact on most of our UK based technology partners looks to be minimal for now.
What happens next?
Without a doubt, the first six months of 2021 are going to be eventful. Ignoring all of the current challenges posed by COVID, delivering services from the UK to the EU has become a lot harder overnight. Companies will need to quickly understand the new regulation and there is undoubtedly going to be a lot of hidden turbulence across the market as businesses try to understand how things have changed. To understand more read this article from the Financial Times that also provides useful insight.
Interested in digital acceleration?
Subscribe to NextWave for occasional email updates on the latest technology, acceleration approaches, news and NextWave events. You can unsubscribe from these communications at any time.
Subscribe for our latest updates

David has 30+ years experience in Financial Markets, is one of the Founders of the NextWave Group and is the CEO and Founder of NextWave-Infinium, our Dutch based business that services our EU based clients. Based in Amsterdam since 2004, he has an in-depth knowledge of The Netherlands and the European Finance sector. He is responsible for the NextWave business in Europe. David has an extensive track record of successfully delivering highly complex, high-profile transformation programs for tier-1 banks. Combining his passion for Finance with a strong entrepreneurial drive, David has also played leading roles in helping to launch, build and scale niche consultancies, growing businesses to in excess of 150 FTE, across multiple locations. An active mentor, supporting numerous tech start-ups, David speaks English, French and Italian.